L.G INDUSTRIAL SUPPLIES (PTY) LTD
LG Industrial Supplies PTY LTD
BBBEE Level One | EME Accredited Supplier
Quality Services & Products: Tools, Fasteners, Abrasives, PPE, and Industrial Machinery
L.G Industrial Supplies has been trading since 2012 to provide the engineering and allied sectors with a range of quality products and services in the following categories: supplying a vast selection of quality hand tools and power tools; fasteners; PPE; abrasives; and hardware. Our prime focus is to provide competitive pricing and quality products to our clients and, most of all, to ensure customers receive our personal and professional attention at all times.
We are also a registered company on the government's central database under Supplier Number: MAAA0035067.
OUR PRODUCTS:
POWER TOOLS
DRILLING MACHINES
ANGLE GRINDERS
CIRCULAR SAW
JIGSAWS
ROUTERS METABO/ BOSCH/HITACHI/MAKITA/ DEWALT
FASTENERS
BOLTS & NUTS (MILD STEEL/BRASS/ STAINLESS STEEL/ HIGH)
TENSILE THREADED ROD
SCREWS
SLEEVE ANCHOR RAWBOLTS
GUTTER BOLTS & NUTS
MINING TOOLS
ENDMILL
SLOT DRILL
TAPS & DIES TAPER SHANK DRILLS
DRILL BITS
AUGER BITS
WELDING
WELDING RODS (MILD STEEL & STAINLESS STEEL)
MIG WIRE
REGULATORS
WELDING HELMET
AFROX
THERMERDYNE
MATWELD
PROMAX
ABRASIVES
CUTTING & GRINDING DISC
SANDING DISC
WATER PAPER
SANDING BELTS
FLAP WHEELS
PFERD
LUKAS
AMPOL
HARDWARE
PICKS
SHOVELS (ROUND & SQUARE) SPADES
RAKES
WHEELBARROWS
BALLAST FORK
HOES & HANDLES
LASHER/ MTS/ RACO
SAFETY GEAR
OVERALLS
GLOVES
HELMETS
HARD HATS
SAFETY BOOTS
DUST MASKS
EARPLUGS
SAFETY HARNESSES
PRECISION TOOLS
SPANNERS
HAMMERS
TOOLBOXES ALL TYPES OF PLIERS
VICE GRIP
HACKSAW
VICES
HOLE SAW
SCREWDRIVERS & SETS
TOOL CHEST
PIPE WRENCHES
FILES
TUBE CUTTERS
MISCELLANEOUS
PAINT
RAGS
MUTTON CLOTH
HOSES HOSE CLAMPS
PADLOCKS
LADDERS
WORKSHOP EQUIPMENT
AIR TOOLS
PNEUMATIC TOOLS
Please contact the team at L.G Industrial Supplies directly for bookings and enquiries.
Current clients include:
Transnet Engineering
Murray & Roberts
Grinaker LTA
Sapref
Ethekwini Municipality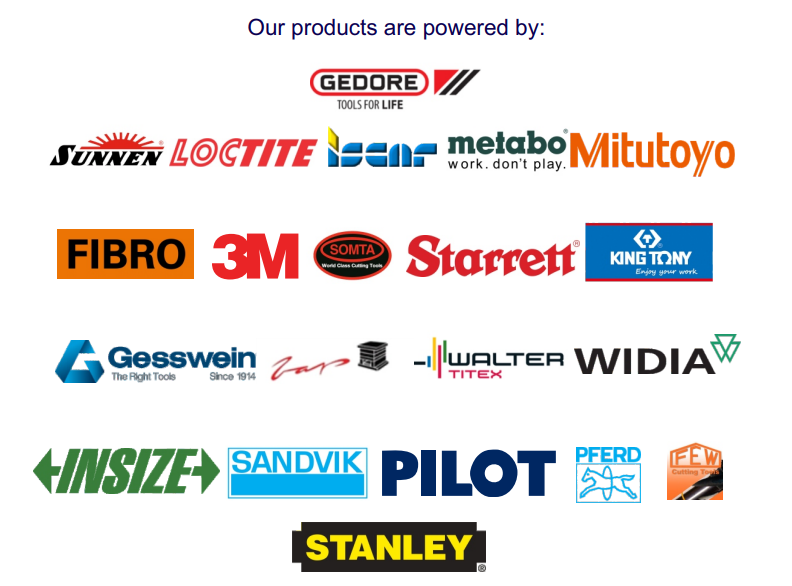 SPECIALS:
Click on the images for a larger view: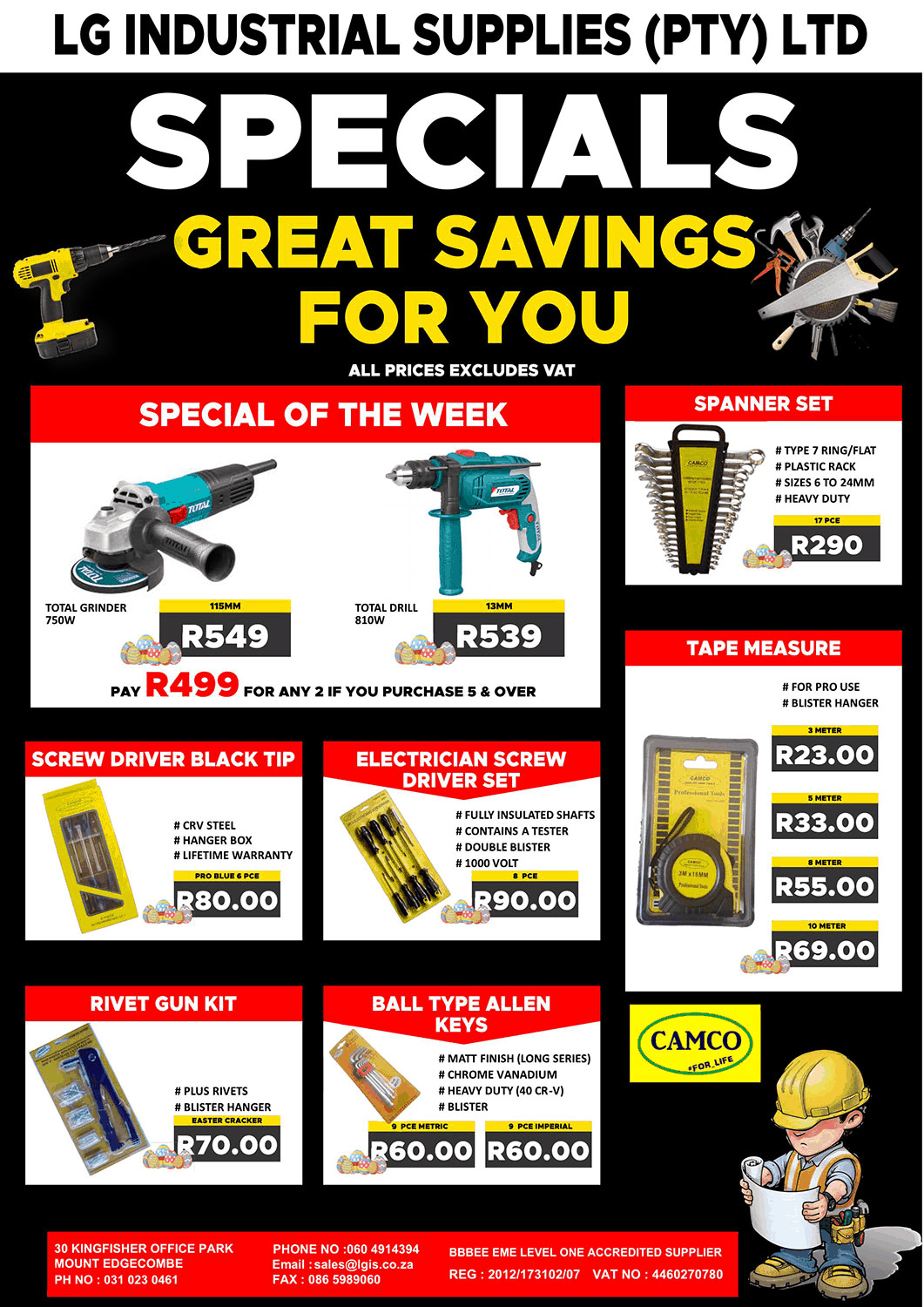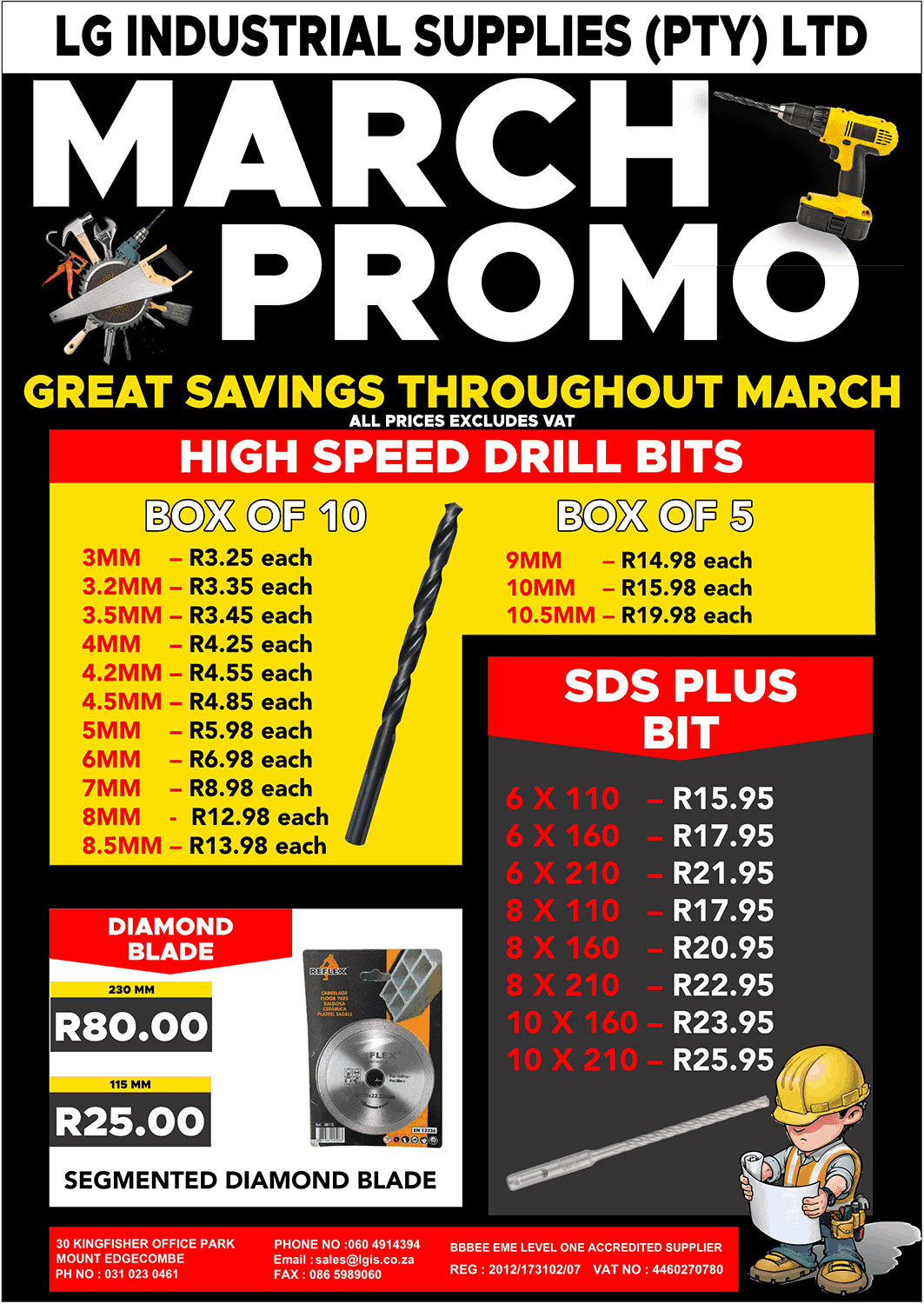 OFFICES:
HEAD OFFICE
30 KINGFISHER OFFICE PARK
MOUNT EDGECOMBE
DURBAN
4300
Email: sales@lgis.co.za
Phone: 031 023 0461 / 060 491 4394
Map:
SATELLITE OFFICE
55 RICHARDS DRIVE
HALFWAY HOUSE
MIDRAND
1600
Email: sales@lgis.co.za
Phone: 078 813 3186 / 010 023 2968
Map: